Halloween may look a little different this year, but that doesn't mean the little ghosts and goblins in our lives don't want to celebrate!
My three year old has had me trying to figure out what a witch ghost looks like for the past month.
I think we've finally settled on being a family of wizards and light up wands are sure to add to our fun!
Create a Halloween Decoration Contest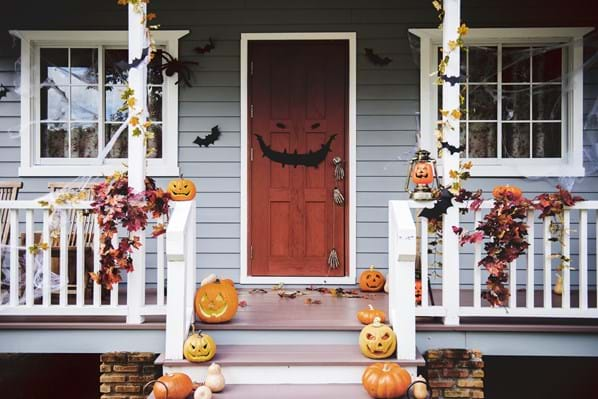 Suggest a Halloween decorating contest in your neighborhood.
Get in the Halloween spirit by decorating your own home. Then take a family walk sometime to see the other participants' decorations.
I hear some homes even have six-foot moving zombies for a real scare!
Visit a Local Pumpkin Patch or Apple Orchard 
Nothing says fall and Halloween like a visit to the local Orchard.
Libby and Sons and Wallingford's Orchard are two of our family favorites! Homemade donuts, activities for the kids, and all the pumpkins and apples you could ask for.
Use your yummy finds to decorate, bake, and more! Before going, check to see what your local pumpkin patch/apple orchard is doing to ensure optimum safety due to COVID-19.
Always remember to carry a hand sanitizer, wear a mask and maintain social distancing when going outside.
Halloween Movie Night & Pajamas 
Pick up some Halloween themed pajamas for the kids, or the whole family!
My kids get especially excited about holiday pajamas! They are too little for scary movies, but there is plenty of Halloween fun on Netflix and Amazon that the whole family can enjoy!
Find an age appropriate choice for your family, put on some new Halloween PJs and enjoy together with a favorite snack!
After the kids are in bed, turn to your favorite Halloween movie classics, scary and otherwise, to celebrate this year.
Watch safely in your own home or see if there are any drive-in options in your area.
Family Pumpkin Carving Contest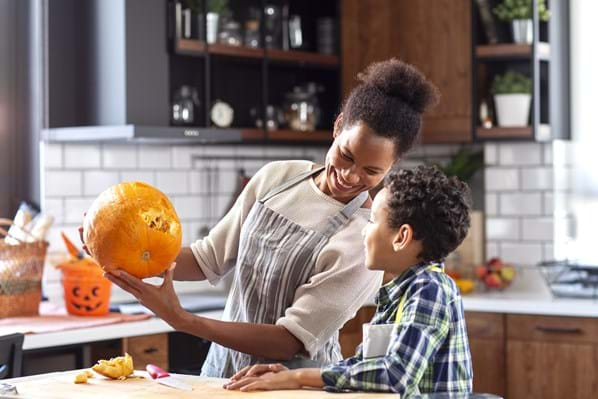 Carve or paint pumpkins to display outside. Zoom other families or groups at the same time to make it a party or meet up in a local park and carve pumpkins together while social distancing.
Don't forget to display your jack-o'-lanterns for others to see and enjoy!
Scavenger Hunt 
Instead of traditional trick-or-treating, host a scavenger hunt at your home where family members get to find candy and other goodies located around the house.
Think Easter meets Halloween!
Trick-or-treat to every door in the house, closets, bedrooms, outside doors, etc., and put a treat behind each one.
Another option is to create a list of Halloween-themed items to look for while walking around your neighborhood. Split up into teams to make it a family friendly competition.
Backyard Halloween Games 
Organize Halloween activities to play out in the backyard, such as a glow-in-the-dark scavenger hunt, a Piñata shaped like a favorite Halloween creature, a spooky obstacle course, and more.
Tape candy to popsicle sticks and push them into the ground, race around and grab as many as you can, or find them in the dark with flashlights. Be creative!
Get Crafty with Kids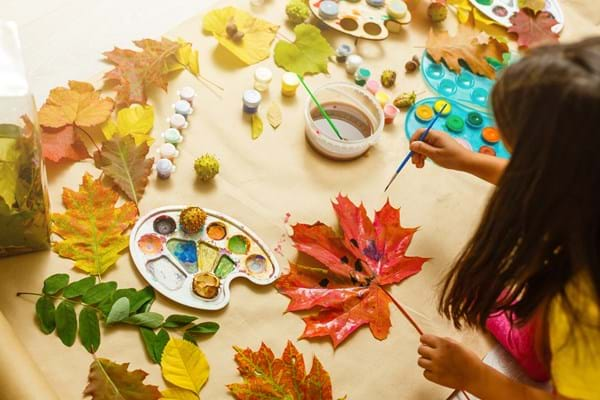 Use craft supplies to make fun creatures, spooky ghosts, and wicked witches.
Use natural fall elements to create something. You can use pumpkins or acorns as a blank canvas by painting them or use leaves and other items to make a beautiful fall wreath.
Make Halloween Costumes 
If you or your kids plan on dressing up for Halloween, this is an excellent opportunity to get prepared!
Get creative with Halloween costumes and turn costume-making into a family activity. If you don't plan on dressing up, make fun Halloween masks instead.
Bake Sweet Halloween Treats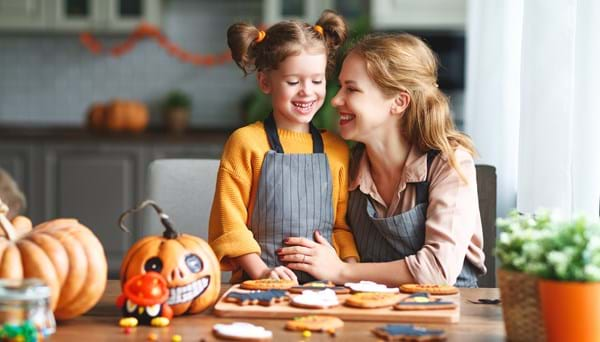 Fall is full of so many delicious flavors, so why not dedicate an evening to making something as a family?
Dishes and drinks such as apple and pumpkin pie, roasted pumpkin seeds, hot chocolate, and apple cider are all fall favorites!
Don't like fall flavors? Try decorating cookies with spooky shapes and images!
Create a Drive-Thru Haunted House 
For any Halloween-lovers who really want to get creative, work with your family to create a drive-thru haunted house on your street or driveway.
Work together with your neighbors while social distancing to get even more spooky!
5 Things to Avoid This Halloween 
Don't Celebrate Halloween with Trick-or-treating 
This Halloween tradition should be avoided this year, as it largely increases the chance of spreading the virus by creating many touch points for each neighborhood.
Trunk-or-treating and one-way trick-or-treating are also discouraged, as they still present a risk due to the passing of goods.
Instead of traditional trick-or-treating, try using one of the above trick-or-treating alternatives!
In-person Parties 
Even with the use of masks, crowded spaces are a high risk for spreading COVID-19.
While not as high of a risk, outdoor parties still present a moderate risk and are recommended to be avoided.
Hayrides/Tractor Rides 
While this is an outdoor activity, it is discouraged due to the close proximity of individuals and families and the high amount of touch points.
Avoid this activity and go for a walk or drive as a family to take in the beautiful fall scenery.
Fall Festivals 
Avoid attending fall festivals this season, as they tend to be prone to overcrowding.
This is especially true if you have to travel to another community to attend, particularly if one of these communities has a high rate of positive COVID-19 cases.
Face-to-face Haunted Houses 
Traditional, face-to-face haunted houses often put groups of people in small spaces and encourage people to physically interact with the space, increasing the chance of spreading illness.
The spread of COVID can be increased by screaming, which is another reason to avoid haunted houses this season. Try doing a virtual haunted house, many of which can be found with a quick internet search!
No matter how you plan to celebrate Halloween during COVID-19, be sure to do any necessary research before visiting somewhere, use standard social distancing guidelines, and wear a mask.
Even if Halloween 2020 looks a little different than usual, there are still plenty of ways to have fun celebrate and enjoy the holiday season! Happy Halloween!
For more suggestions on how to spend holidays in 2020, check out the CDC's holiday-specific page.